UNDERGROUND SOUND
1/27/97
Text-only format
Distributed every 2-3 weeks
New Information from the
united Underground...
Music, Reviews, Information
Send all press kits to:
Underground Sound
Attn: Editor
6546 Hollywood Blvd.
Suite 210
Hollywood, CA 90028
213-871-8054 ext. 558
UGR supports all indie music
No regards to formats...
Over versions available:
Webzine, Multimedia & Hypercard versions
Current email circulation: 746,897
to subscribe:
email: 74777.3354@compuserve.com
UGR Website: http://ourworld.compuserve.com/ugr
*********************************************************
*********************************************************
HAPPENIN'S AT WORLD DOMINATION
HI and a belated Happy New Year etc.
If you haven't been to the website lately, check it out, a new look and new
stuff to browse. http://imusic.com/worlddom
New releases: Next week, LATIMER, "Live From Sour City" (no it's not live!)
See them soon on the cover of the Philadelphia Weekly.
Coming soon: From Japan, SUGAR PLANT, "After After Hours" Look for them in
the Mar/April issue of REQUEST magazine.
From St Louis, KRISTEEN YOUNG, :Meet Miss Young and Her All Boy Band", a
volatile mix of Diamanda Galas and Tori Amos.
From New Jersey those lovable chaps LIZARD MUSIC bring you more heady pop
in the guise of their new cd "Dear Champ
In the world of Dance/Electronic Music, LOOP GURU and PERFUME TREE continue
to shine brightly with very consistent soundscan sales, as does our recent
SKY CRIES MARY/Various Artists remix cd "Into Topological Space".
Loop Guru fans look out for an upcoming special web only cd release via
http://imusic.com Email here for more info. Loop Guru, Perfume Tree and
Malacoda all have new albums coming in May and June.
And finally for those of you going to SXSW Music Conference in Austin, TX
this March you will be able to find Loop Guru, Perfume Tree, Scenic, Lizard
Music and Malacoda performing there (locations TBA).
And you industry types should check out the new music and entertainment
news updater which brings you music news and gossip every 15 minutes from
around the world.....point your browser to
http://imusic.interserv.com/newsagent/
World Domination Publicity
Dominate@netvoyage.net
http://imusic.com/worlddom
####################################################################
Greetings,
Here it is 1997, and long time Zonacrat, Jack deKeyzer will be
celebrating 25 years as a pro-musician with some great parties planned for
the summer.
Jack is also getting ready to put out a new collection of songs
plus a series of live-show cassettes, recorded at Jack's favourite clubs
throughout Canada. His first was recorded live at Mrs. Robinson's in
Kitchener, Ontario.
Zona Canada will be documenting this incredible year and we want
all of you to be part of this historical event-filled year.
FIRSTLY
We are looking for quotes and/or stories relating to ...
A) Jack's guitars playing
B) Song writing
C) Live Performances.
Those who decide to give us their views and review please note: These
quotes will be used in both the promotion and documentation of this
independent Canadian musicial artist.
Thank you in advance for your participation.
Culturally Yours,
Karla Ingleton
-president / Zona Canada
ZONA CANADA...for Cultural Entertainment Entrepreneurs
zzzzzzzzzzzzzzzzzzzzzzzzzzzzzzzz D.i.Y zzzzzzzzzzzzzzzzzzzzzzzzzzzzzzzzzzzzzzz
ZONA Web > www.zona.on.ca
ZONA Radio > Alternate Tuesdays at 10PM (98.7FM) - Hosted by D.J. Gerry
ZONA Education > D.i.Y. Indie Workshops/Conferences/Textbooks/Newsletter
ZONA Mail-Order Catalogue > Educational & Cultural Gifts > 1-800-668-Fans
ZONA Mobile Office > 905-623-7508 - ZONA Radio > 519-650-4815
ZONA Mail > c/o K.Ingleton. 3170 Liberty St. N. Bowmanville,Ont.CAN. L1C4N7
zzzzzzzzzzzzzzzzzzzzzzzzzzzz Do-it-Yourself zzzzzzzzzzzzzzzzzzzzzzzzzzzzzzzzz
>NEW RESOURCE BOOK - D.i.Y. Advice for Indie Musicians.
>SUBSCRIBE TO - Roars n Whispers Newsletter.. Solutions & Tools for
>Cultural Entertainment Entrepreneurs
>GET BUSY! - Indie *Music/Literary* Cultural Enterprises - Correspondence
>Courses (Mail or Email)
####################################################################
******=====*****=====*****=====*****=====*****=====*****=====*****
10" MARIA NEWS & OTHER INTERESTING STUFF!!
******=====*****=====*****=====*****=====*****=====*****=====*****
First off... I bet you missed this Newsletter, it's been a long time!!
Second... if you want off this mailing list just say so... and you
are gone! Now the rest of you lucky people:
*~*~*~*~*~*~*~*~*~*~*~*~*~*
The Go On Girl 2 - Class of 97 - Fret Less Music - CD release is January
15th. CD release party February 10 & 11th in New York City! Our
two cuts are; "Sybil" & "Mona's Lament". The other bands on the CD
are:.....
Velvet Hammer, The Hush, Psalm 69, Doll Fix, Fiona Lehn, Jane Doe,
The Librarians, Michelene Impossible, Killer Kowalski, Lunar
Plexus and Melissa Reaves. Billboard Magazine has already announced
it's coming! We have 10 free copies to give away... if you want one say
so now... and it's yours!!
Another exciting CD release due out February 24th in the States &
February 25th in the U.K.:.....
Four grab you by the soul Bill Hicks CD's on Rykodisk! "Rant In E
Minor", "Arizona Bay", "Relentless", and "Dangerous"... let me tell
you they are amazing... Kevin let me in on the drafts... I'll say no
more.... except - film project to follow... yes, that's right...
Booth is making the movie - I read the prospectus... hang on... if
you are a Hicks fan you are in for the ride of your life! Thanks
to all who visited the Bill Hicks Foundation For Wildlife Rehabilitation
site, signed the guest book & support the cause. Jere Raridon,
if she hasn't already - will reply to all the mail & questions...
thanks for your comments.
Finally... if that is not enough to knock the dust off your third
eye... Dave Prewitt will be producing/editing the first 10" MARIA
video "Sybil". We hope to have it ready for a first showing at the
Go On Girl 2, Class of 97 CD release party in New York!
*~*~*~*~*~*~*~*~*~*~*~*~*~*~*~*
*~*~*~*~*~*~*~*~*~*~*~*~*~*~*~*~*~*~*~*~*~*~*~*~*~*~*~*~*~*~*~*~*~*~*~*~
10" MARIA: http://www.eden.com/~tenmaria
"Those who danced were thought to be quite insane by those
who couldn't hear the music......."
~~~~~~~~~~~~~~~
Bill Hicks Foundation For Wildlife Rehabilitation"
"Squeegie Your Third Eye!".... (the late great Bill Hicks)
http://www.eden.com/~tenmaria/bill.htm
*~*~*~*~*~*~*~*~*~*~*~*~*~*~*~*~*~*~*~*~*~*~*~*~*~*~*~*~*~*~*~*~*~*~*~*~
####################################################################
ARCANUM STUFF
Hi everybody,
We're splitting up this e-mail to a few of you at a time (there are almost
300 on our e-mail fan list now, and I know you don't want to read all those
e-mail addresses before getting to the heart of the letter;-)
Anyway, we have been incredibly busy lately. In just the past couple of days
we have been added to 2 different shows on the internet that will be
available to download by the end of the week:
1) "Future Hits" - a ten song
show that will be playing "The Rhythm is a Sadist" in between the new singles
from U2, Depeche Mode, Prodigy, Stone Temple Pilots and Rage Against the
Machine - not bad company;-) The show will be available to download this
Fri. at http://ww2.audionet.com/jukebox/future.htm We'd really appreciate
it if you can request us at request@altrockworld.com to ensure that we'll
continue to get played on future shows, and to prove that we deserve to be
among those names.
2) CRUX internet radio - you can find this at
http://www.crux.org/cyber/shows.htm
We'll be under the "Fresh from the Oven" shows by the end of this week as
well. Again, we'd really appreciate it if you could request us at
crux@crux.org for the same reasons;-)
Among these stations, we've now been played at around 30+ stations all over
the world, one of which (Flyer Radio in OH) we are in rotation. Still we
have no one helping us, this was all done on our own - no managers,
promoters, lawyers...nothing!;-) But we still haven't been played at the
major station here in Atlanta, 99x. If you could request us at Steve@99x.com
we'd really appreciate it because that would help a ton.
We have also just written the theme song for an independent film in the
making called "Pale" (which is appropriately titled 'The Theme to 'Pale''
;-). It's a mid tempo song kind of like James Bond meets jazz with drum
loops. We're told it's in the early stages now, but hopefully it will see
the light of day by the summer. We'll let you know.
Our official web page will hopefully be updated sometime soon, because there
are tons of new great reviews to add to it (still no bad ones yet;-). You
can find some of them now (there are more, but these are the latest) at:
181.4 degrees from the norm - http://www.181-4.com/
Aiding and Abetting - http://cent.com/abeting/AAtoc.html
Sonic Boom - http://www.sonic-boom.com/
Open Up and Say - http://comp.uark.edu/~tcraven/openup.html
And of course there is the "Pro Sound News" and "Banned Thoughts" magazines
that we already told you about last week;-)
Thanks again for everything. And if you've bought a cd from us already, we
really appreciate it and are hoping that you are enjoying it;-) Hope to talk
to you again soon,
Brett and Shaz
####################################################################
: A T T R I T I O N :
7 Radcliffe Rd, Coventry, England, CV5 6AA
Tel. /Fax. 44-(0)1203-672288
email. attrition@jwaller.demon.co.uk
http://www.projekt.com/bands/attrition/
...are pleased to announce the release of a new album - "Etude" - out
in March on Projekt Records a collection of ATTRITION pieces
completely reworked and rearranged for viola. violin, cello, organ and
percussion and a cover version of Purcell`s "Cold Genius" complete a
very special work...
the album is preceded by a 4 track maxi of
dance re-mixes and unreleased classical material...
The Eternity EP
the group will be undertaking a significant world tour through 1997
performing live in Europe, USA and central America ...confirmed so
far:
GERMANY
Feb 21 - Leipzig / Werk2
Feb 22 - Bonn / Biskuithalle
Feb 26 - Braunschweig / Brain - Club
Feb 27 - Rostock / Mau - Club
Feb 28 - Bochum / Zwischenfall
March 01 - Gorkwitz / Reussischer Hof
March 02 - Hannover / Bad

ATTRITION will be available for interview during the tour
feel free to contact us for further information
Martin Bowes
####################################################################
WARM WIRES TOUR:
FRIDAY, JAN. 31ST, BRICK BY BRICK (1130 SAN BUENOS AVE.) IN SAN DIEGO, CA.
OPENING FOR DICK DALE & MISSISSIPPI MUD SHARKS.
SATURDAY, FEB. 1ST-POPTOPIA! @ 9:30 PM @ SPACELAND (1717 SILVERLAKE BLVD)
IN SILVERLAKE, CA. APPEARING WITH SISSY BAR, LOUD FAMILY, AND MORE.
SUNDAY, FEB. 2ND, BOTTOM OF THE HILL (1233 17TH ST.) IN SAN FRANCISCO, CA.
APPEARING WITH VIRGIN RECORDING ARTISTS LOW N SWEET ORCHESTRA.
WEDNESDAY, FEB. 5TH, PASHA (61 NW OREGON ST.) BEND, OREGON.
THURSDAY, FEB. 6TH, LA LUNA (215 SE. NINTH ST.) PORTLAND, OREGON.
APPEARING
WITH GARY HOEY & HARLOT DANCE.
FRIDAY, FEB. 7TH, MOE (925 E. PIKE ST.), SEATTLE, WA. APPEARING WITH
GARY HOEY AND HARLOT DANCE.
Press: Check out the Warm Wires feature in the Beat section on page 18 in
the San Francisco edition of BAM.
LIVE SISSYS:
Sissy Bar appearing 9:00PM on Saturday, Feb. 1st as part of Poptopia at
Spaceland(1717 Silverlake Blvd.).
For more info on Poptopia, please point your browser to:
http://www.members.aol.com/poptopia.
####################################################################
NATION OF LIES REALAUDIO
Nation of Lies is proud to announce that our website now features our
music in RealAudio 2 format. Users with 14.4k modems or faster can
now hear selections from out last album, "Blasphemy." If you have a
28.8k modem or faster you can hear the entire album!
You can access our website from:
http://www.csusm.edu/public/thoma003/nol.html
Watch out for the release of "Blasphemy" on CD-R soon...
Nation of Lies is currently seeking a label/p+d deal and management.
_______________________________________________
|\|ation of |_ies
xevious@znet.com 619/741-3LIE
http://www.csusm.edu/public/thoma003/nol.html
####################################################################
FOR IMMEDIATE RELEASE Contact Lorna Green
January 20, 1997 416 214 1888
Rick's Cabaret www.cyber-broadcasting.com
Symbol RICK NASDAQ
RICK'S CABARET OPENS IN NEW ORLENS
(New Orleans, LA)-The Houston based club that revolutionized the adult entertainment
industry has climbed another rung up he strategic ladder with the opening of its newest
storefront here just in time for one of the biggest tourist years in this city's history.
Super Bowl and Mardi Gras visitors will be among the first to experience the
16,000 square foot mega club located in the heart of world famous Bourbon Street's
entertainment district.
Model after the successful product formula that has made the flagship club in Texas an
industry leader. Rick's New Orlean's offers quality entertainment in a luxurious club
environment. full service dining and an exclusive VIP room for preferred guests. In
March of 1997, Rick's will build upon the concept with the opening of a 250 seat Parisian
style dinner theater on the second level, which will feature Las Vagas style entertainment
with live choreographed shows. The complementary venues are expected to generate $7
million in gross revenues during the first year of operation.
The addition of Rick's New Orleans is part of a corporate wide expansion plan as the only
publicly traded company focused exclusively on the sophisticated adult entertainment
market embarks on a major industry consolidation with more than 20 clubs projected to
complete the initiative within the next 48 months in select markets nationwide. Rick's
Cabaret International, Inc. is a publicly traded company on NASDAQ under the symbol
RICK.
####################################################################
*************************************************************************
BLACKMAIL MUSIC KB / Ransom Records
blackmail@mailbox.swipnet.se - alt: jensa@tripnet.se
fax: +46-31 69 49 98, tel: +46-31 29 29 41
BLACKMAIL Home Cave, Multi-Awarded, rated "one of the best"
http://home2.swipnet.se/~w-20275/blackmail.html
See also BLACKMAIL pages in ALCHEMY Metal Net:
http://www.atmnet.net/~riddler/alchemy/h-spons.htm
http://www.atmnet.net/~riddler/alchemy/samples.htm
in ArtistWeb (BLACKMAIL was Featured Artist in Dec '96)
http://www.artistweb.com/
Showcase band in RAW Magazine, Jan '97:
http://www.rawmusic.com/raw_showcase.html
Interview published Dec '96-Feb '97 in Tracks of Creation
http://www.ratw.com/creation/issue_8/interviews.html
Showcase feature in Zippo's Music Gallery, Feb '97:
http://www.zippo.com/mgallery/musicgal.htm
Surface address:
c/o Lundsbye, Ekehojdsg 8
S-426 68 V. FROLUNDA, SWEDEN
*************************************************************************
####################################################################
Here's what's coming up on SonicNet chat next week!
(All times Eastern Standard)
http://www.sonicnet.com/sonicore/chat/
Lil' Kim - Monday, 1/27 @ 7 PM (rescheduled from last week) - The Queen Bee
of the Junior Mafia returns! Lil Kim tells you just how Hardcore her new
album is.
Chemical Brothers - Monday, 1/27 @ 8 PM - Groove and glide on a techno ambient
ride through cyberspace with the two most influential people in electronic
music today.
Chavez - Tuesday, 1/28 @ 7 PM - Chavez, fresh off the road talk about their
newest release on Matador records.
Reel Big Fish - Wednesday, 1/29 @ 7 PM - Check out these Ska hipsters who
are sure to give No Doubt a run for their money!
Coming Soon: Foxy Brown, Sick of It All & Redman
Logging on is easy. Point your IRC client to irc.sonicnet.com OR go to
SonicNet's Chat Central (http://www.sonicnet.com/sonicore/chat) for more
information. You can download Global Chat software directly from
http://www.globalchat.com
If you want to be reminded of these chats, hit the
AUTOREMINDER button on the Bio page of that artist
and you'll get an email the day of the chat!
####################################################################
Try Concrete Magazine's
CONCRETE CHAT!
http://www.neocom.ca/~majestic/chat.html
See you there!
--
Ras Elijah
Concrete Magazine Online!
http://www.neocom.ca/~majestic
Check out our new CONCRETE CHAT!
http://www.neocom.ca/~majestic/chat.html
####################################################################
Dear DJ's and entertainers:
Rhythm Crew on-line has the top ten interactive up. Place your favorite
top ten's of the moment on-line in the 'basement' and let everyone see
what you spin.
http://RCDJ.com/
goto the "Basement" and then to the "DJ Charts"
Thanks for your support.
Peace
DJ Crash
djcrash@earthlink.net
####################################################################
THE NEW UNDERGROUND SOUND WEBZINE IS UP!! See It at:
http://ourworld.compuserve.com/homepages/ugr/sound.html
####################################################################
Hi!
After a long while i've finally been able to spend a few hours on updating
the unofficial dEUS homepage. Unfortunately this wasn't enough 'cos it's
still not fully updated. However quite some things have been changed or
updated. I did this mostly with info provided to me personally and of course
to this list. So a very big thank you to everyone who sent this stuff (Paul,
Martijn, Thijs & lots of others)!!!
A new feature is an ftp-like directory which contains lyrics & tab. Over
there you can download WCS (except for Great Am. Nude & Right As Rain) and
In A Bar lyrics, and guitar tab to Suds, Hotellounge, Via, Roses &
Morticiachair. To go there directly: http://www.xs4all.nl/~huubs/tab_and_lyrics/
The new album is in the discography, some compilation info was added, Danny
M. is included in the line-up, some links were added while a few unreliable ones
were removed, etc. Updates to the reviews section, the Kiss My Jazz stuff
and the bootleg discography are first on my yet-to-do list.
There is still quite some lyrics & tab stuff missing so if you've got
something to add please let me know...
bye,
Jorg
ps. URL = http://www.xs4all.nl/~huubs/
******************************************************************************
* "Life sucks basically, every day seems the same, deja vu sometimes" *
* Lionel Horowitz & His Combo *
******************************************************************************
mail: jorgs@knoware.nl - personal page: http://www.mygale.org/07/groj/
The Unofficial dEUS Home Page: http://www.xs4all.nl/~huubs/deus.htm
####################################################################
Hi Folks,
Three DROG bands on the move
dave@drog.com
Rheostatics National Tour(with the Inbreds)
The Rheostatics are embarking on a cross Canada tour. For the first
time ever, the Rheostatics entire tour will be played in Theatres. Shows
are all ages.
FEBRUARY
Wednesday February 5th Victoria University Theatre
Friday February 7th Vancouver Vogue Theatre
Saturday February 8th Kelowna Community Theatre
Monday February 10th Calgary Uptown
Tuesday February 11th Banff School of Fine Arts
Wednesday February 12th Edmonton Polish Hall
Thursday February 13th Saskatoon Broadway Theatre
Friday February 14th Regina To be announced (TBA)
Saturday February 15th Winnipeg Student Theatre (on-campus)
Monday February 17th Thunder Bay Orphium
MARCH TBA
More dates will be announced as they become available.
for more info, press or media contact Tyson Parker at 416-595-9573
Also to note: The Rheostatics will be live in the Much Music Studios on
January 29th. Check with Much for the exact time.
I forget to add in their that the Inbreds will opening for the
Rheostatics on their National tour.
---------------------------------------------------------------------------
* DROG Recording Artists *
Rheostatics, Aaron Riches, The Cardinals, Uncle Violet, Hank Davis,
Dennis Gomo, Adam West, Barn Cats, Jeff Bird, Bird Sisters, Black Cabbage,
Riki Gee, Truck Songs, Creef, Dissemblers, Inbreds, Lewis Melville,
People From Earth, UIC, Andrew Whiteman, Guelph Happens, Nerdstock
* Just In - STOMP ON WOOD (A Tribute To Stompn' Tom)
---------------------------------------------------------------------------
DROG, P.0. #24062 Bullfrog, Guelph, Ontario, Canada, N1E 6V9
Phone # (519)821-3551 fax (519)763-1332 Web - http://www.drog.com/drog
Email - dave@drog.com
####################################################################
Come join us Tuesday night, January 28, 7:15 pm pst for the 4th Artist
Underground showcase/webcast from Billboard Live!!
You will need the Xing StreamWorks player to hear and see the show and
it is FREE from http://www.xingtech.com For more details, come to the
Artist Underground website or email info@aumusic.com
The evening will feature sets from:
the cat Mary
Debra Davis
Heather Sullivan
Lisa Nemzo
Ether
Doug Baron
Come to the site early, get familiar with these artists and then see and
hear them LIVE on Tuesday night!! 20
We are also ecstatic with your response to two of our newest standout
female singer/songwriters: Vonda Shepard and Eliza Gilkyson. If you
haven't had a moment to check them out, please come by and enjoy their
talent.
Don't forget our specials!!! Great independent music at great internet
prices!!
If you are one of our America Online subscribers, you will also be able
to see and hear the show - go to keyword: AU for instructions.
Please help us make this another great evening by starting off 1997 with
an enthusiastic welcome! Don't forget to tell us about your experiences
so we can continue to bring you the best in independent music.
We'll see you Tuesday night!!!!!!!!!!!!!!!
Artist Underground - the place to discover artists and their music -
http://www.aumusic.com
AOL keyword: AU
####################################################################
===========================================
NIGHTCRAWLERS: The NGSN Gothic Classifieds is a networking and referral
service for people into the gothic and industrial scene, vampyres,
fetishes and the occult. We have free registries for gothic businesses,
organizations, publications, events, radio-programming and new music as
well as six free chatrooms for the vampyrically-inclined. Call
1-800-320-3753 to open your own free voice-coffinbox classified. (U.S.
phone access only) In addition we are now offering the ability to post
your own classified online free for the next few weeks. (international
access) If you are interested in this section however, you should take
advantage of this free trial period as it will soon become a "members
only section" with a small fee attached. When the "members only section"
is fully constructed we will have many many free additional features
which regular users of our registries and chatrooms will not have access
to including a monthly online magazine. To get more information, see our
web site at: http://www.gothic-classifieds.com
Thankyou for your interest, and please feel free to forward this to
another goth who you may think would benefit from our site.
Scary Gary
NIGHTCRAWLERS: The NGSN Gothic Classifieds
POB. 219044, Portland, Or. 97225-9044
503-294-1242
=============================================
A.M.S.G.
####################################################################
HELLO,
!!! UNDER THE FLAG #9 is finally out !!!
Sorry for the very long delay (one month about).
Anyway, the next issue is still planned for the previously announced date
(1st March 97).
If you know that you already get in touch with us between the 1st October
96 and the 31st december 96, then you don't need to reply to this message :
your package is ready to leave Belgium with an issue of the brand new UNDER
THE FLAG + numerous full colours flyers for you.
On the other hand, if you don't remember if you get in touch with us
between those dates or if you never heard anything about UNDER THE FLAG,
feel free to e-mail us right now, giving the following information :
- Society
- Your name
- Address
- Zip code
- City
- Country
- Phone number
- Fax number
- E-mail
- URL
- Describe your activity (CD label, tape label, band, magazine, radio...)
If you are managing a CD label or a magazine, we will send you a promo copy
of UNDER THE FLAG if you answer before the 8th of January.
If you are managing something else, please send us an IRC (ask to your
post-office) to cover the shipping cost.
UNDER THE FLAG #9 - Technical Card
*****************************
Twelve A4 pages (21 x 29,7 cm)
Two colours printed cover
One colour printed inside
Printed on glossy paper
Circulation : 2.000 copies
Interviews with : Ivan Iusco (It, Nightmare Lodge, Minus Habens records,
Disturbance) [Italy], Diatribe [USA], Testify [Germany], Malaise [Sweden]
Also featured : new releases reviews, lots of news, an American scene
report, contacts.
Next Issue : UNDER THE FLAG #10 - Technical Card
***************************************
Release date : 1st March 1997
Deadline for ads and promos : 20th February 1997
Sixteen A4 pages (21 x 29,7 cm)
Two colours printed cover
One colour printed inside
Printed on glossy paper
Circulation : 2.000 copies
Interviews : ?
Also featured : new releases reviews, lots of news, contacts + ?
AD RATES (one colour ads)
1/4 page = US$62
1/2 page = US$120
Full page = US$230
If you need more than only one colour for the printing of your ad, just ask for.
Please, contact us at
UNDER THE FLAG
C/o Didier Delhez
rue de Selys 9/3
4000 Liege
Belgium
Phone, Fax, Modem : +32-(0)4-253 54 67
Email : ddlhz@skynet.be
URL (under construction) : http://www.exmachina.be/undertheflag/
We are also running a graphical division named CAPITAL GRAPHIQUE.
Special low prices for CD designs, flyers, books...
Same address than above.
*****************************************************************
** UNDER THE FLAG magazine **
** ddlhz@skynet.be **
** C/o Didier Delhez - rue de selys 9/3 - 4000 Liege - Belgium **
** Phone Fax Modem : +32-(0)4-253 54 67 **
** READ IT LOUD OR DON'T READ IT AT ALL **
** Next issue available on 1st March 97 **
** deadline for promos and ads : 20th Feb. 97 **
*****************************************************************
####################################################################
"Those Kids... They DIG the SWINGFACE"
SwingFace

LIVE AT LAST!

January 30th SwingFace will be appearing at the illustrious Cafe' Tattoo in
lovely downtown Overlea! (Well, I think it's Overlea...it may be Belair, but
what difference does it make...) We will be appearing with the always
lovely, always dashing, and usually sweet smelling Tobias Hurwitz, and his
band of miscreants. SwingFace will hit the stage around midnight, and big
fun will be had by all! For directions, feel free to email me:
swingface@infinite.ihub.com
Cafe' Tattoo
4825 Belair Rd
(410)325-7427

ALWAYS GOTTA BE ABOUT COLOR!

Step right up, step right up: The SwingFace coloring contest is in full
swing! We've already had a couple winners, and get more entries every day!
Go to http://swingface.ihub.com and click on the CONTEST button for more
details, and to see the latest winner.

WE'RE READY FOR OUR CLOSE-UP MR DEMILLE!

News from the Silver Screen: I just spoke with our pals at Flipside Films,
and apparantly the shooting for "Pray For Us Sinners" is almost done. All
the filming has gone rather well. (with the exception of Demi Moore refusing
to do her nude scene...go figure...) Look for a release sometime in the
spring. I'll update you with more information as it happens!

SONY KAWASAKI HITACHI KOWABUNGA

I think I'm turning Japanese: On February 14th (the international day of
love and sharp abdominal pain) SwingFace will be featured in a documentary
about the internet on the NHK Network in Japan. We had alot of fun shooting
the footage with our new found Japanese friends about a month ago, and we
can't wait to see the finished product! So to all you Japanese SwingFace
fans, get ready for some great footage of us practicing, working, and
generally jerking around!

PUT THE SOFA OVER THERE BY THE BAY WINDOW

Oh what a tangled Web we weave: The SwingFace website is getting a makeover!
No, it didn't go on the Ricki Lake show...at least, not yet. Our resident
webmeister, Allan, is working his little drumming fingers to the bone to
bring our website to the next level. We've already got alot of pictures,
soundfiles, and other fun stuff up there, so who knows what's next! We'd
also like to hand out some stone cold props to my bro Mike for helping out
with the art! Keep up the good work! We hope to have the new site up and
functional by mid February.

Well, that's about it right now. Please direct any questions or comments
directly to me at swingface@infinite.ihub.com, unless you want the whole
world to read it...then you can just reply to this message!

Love and all other things sticky,

Steve Fahlsing
swingface@infinite.ihub.com
http://swingface.ihub.com
HI Steve,
This is al from the aethyric web and i just wanted you to know that we
now have a website!
You can check it out at http://member.aol.com/azkath/aethyric.html
We have a smaller version of the 'zine and tell of the other projects we
are doing.
Thanks,al"gorgar"reese
####################################################################
Hi all, These are the officials and confirmed dates that dEUS will perform in the
UK supporting Placebo:
10.02.97 Glasgow the arches
11.02.97 Newcastle riverside
13.02.97 Manchester university
14.02.97 Sheffield university
15.02.97 Nottingham rock city
17.02.97 Wolverhampton wulfrun hall
18.0297 Bristol bierkeller
19.02.97 Portsmouth pyramids centre
20.02.97 London astoria
all tix at 37.50 except London 38.50.
I would like to ask to anyone on the list living in one of these 9 cities
if they could please e-mail me for giving information of cheap accomodation and
the easiest way of transport in between the cities, as I plan to come over
from Belgium and follow the tour..Thanks
Stef
a.valvassori@arcadis.be
####################################################################
RE: Review....GROOVE KRICKETS
With all the changes and various styles in music over the last few years
(commercial bands getting heavier and heavier and computers being integrated into music)
it's refreshing to hear a band that still believe in delivering straight ahead Rock N' Roll.
The Groove Krickets are a band out of Nashville Tennesse. The Groove Krickets are:
TJ Blackmon onguitar, Johnny Knoch is the drummer, I'm totally nuts with ants in my
pants to boot. They have been around for about a decade and have toured different
countries in the world a few times over. They have had exposure on MTV and various
local TV and Radio shows throughout the years. Their style of music is nothing like what
you'd expect to come out of Nashville Tennesse and is definitely not comparable to Garth
Brooks or WIllie Nelson. This is evident on their 3 song demo which includes "Drivin'",
" Black and Gray" and "Who's to Blame". The songs on the tape are all raw-sounding in
your face anthems with contagious lyrics that have you singing along by the last chorus!
For an interview with Dave baker of the Groove Krickets...click on the group photo on
the frontpage of the Underground Sound Webzine:
http://ourworld.compuserve.com/homepages/ugr/sound.html
####################################################################
KILLER JOINTS
www.hiphopsite.com
-------------------
Yo check out this site!!! It is updated weekly and has all the new
joints before anyone else !!!!! Peep it http://www.hiphopsite.com .
-peace
####################################################################
SOULSCAPE
*Greetings*
So we finally got off our lame asses and mailed you guys something.
Consequently, if there is anything that you want to know, then write us and
let us know.
Well , to get on with things, we will NOT be releasing Collective Auditory
Hallucinations as soon as we thought. However, we ARE going in the studio
at least once a month to try t get that out to all of you A.S.A.P. Cool? Cool.

*Current Exploits*
"So", you are asking yourself, "is there anyway I can enjoy the smooth,
sweet sounds of SOULSCAPE in the near future?" Well, to answer that, we have
officially NOT released Neo-Human as we planned, BUT, we are releasing it as
a basic D.I.Y. package (D.I.Y. = Do It Yourself). This includes collector
artwork spliced from some of your favorite mags on the cover, and the
following five songs:
"WHATEVER","FEAR","GRAVITY", "DIGITAL EMOTIONS", and "PINDROP".
By not printing and producing this EP the way we had planned we are able to
put that money into the production of the full length CD later this year.
So, how can you receive a copy of the Neo-Human D.I.Y. release? Just mail us
a friendly donation of two(2) dollars and your name and address, and we will
respond promptly.
*New Music*
We are currently going through some experimental phases in our writing. This
is taking us in a direction which promises some real trippy stuffS, the same
trippy stuffS you have come to expect from four equally tripped people.
*Live Shows*
Well, the last show we had was December 4th at The Masquerade with Planet
Psycho and Redrum, and it went rather well. For those of you who did not
make it, you missed a good show, but perhaps you will make it out next time.
We have no immediate plans for a live performance, but look for a show in
late February or early March. All upcoming show information can be found on
our Web site, or on kanE's voice mail message at: 404-282-4983.
*Miscellaneous Shit*
--Expect various SOULSCAPE merchandise in the near future. (Shirts,
Stickers, Sex toys, etc.)
--Visit our World Wide Web page at: www.mindspring.com/~hemlock/soulscape
Concert information will be advertised there.

--SCARECROW is still looking for his binky and if anyone has seen it please
e-mail us at: hemlock@mindspring.com
thanx,
SOULSCAPE
####################################################################
That's It!!! Until Next Time!!!
The Underground

^Since 2013^

^Since 1996^
Save this on Delicious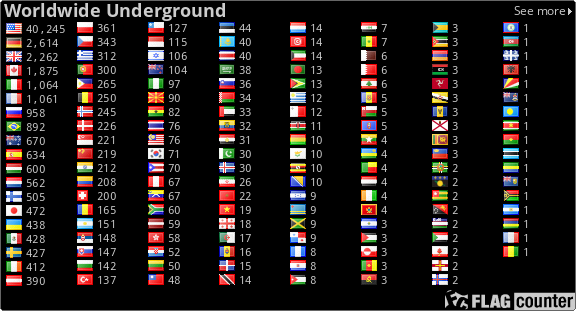 A&R REPORT | HISTORY | NIGHTCLUBS